Material on the lens especially for Radozhiva prepared Rodion Eshmakov.
Thank you for the lens provided for preparing the review Nadir Tulasheva.
An overview of this lens from Arkady Shapoval can be read here.
The Carl Zeiss Sonnar 2.8/135 T* is a manual telephoto lens for small format SLR cameras, developed by the West German Carl Zeiss and produced from 1975 to 2005 - a whole 30 years! During this period, the East German Carl Zeiss Jena not only did not create a new 135 mm lens, continuing to produce an obsolete Sonnar 135 / 3.5 originally from the 60s, but completely lost the production initiative after the unification of Germany. True, the West German production of photographic lenses also died - and Sonnar 135 / 2.8 was already produced in Japan.
In the USSR (subsequently - in the Russian Federation), at that time they also produced an analogue of the Sonnar 135 / 3.5, which deserves attention today because of the price / quality - Jupiter-37A - in various modifications: Jupiter-37A 135 / 3.5 with a single layer of anti-reflective coating, Jupiter-37A MS-N-30 with a multilayer antireflection coating of a certain brand, MS Jupiter-37A with a multilayer coating (without specifying a specific brand), MS Jupiter-37AM 37A with a multilayer coating (without specifying a specific brand) and Jupiter-37AM with a single-layer coating of optics.
TECH SPECS
Optical design - 5 lenses in 4 groups (a kind of "Sonnar", see below);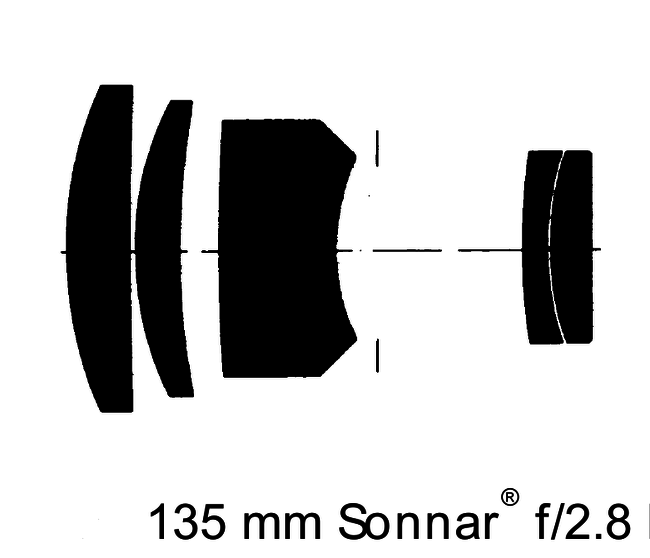 Focal length - 134.1 mm;
Relative aperture - 1: 2.8;
Calculated frame - 36×24 mm, provides a coverage of 44×33 mm;
The angle of the field of view (with a frame of 36 × 24 mm, diagonally) - 18 °;
Aperture - 6 blades;
Aperture limits - 1:2.8 - 1:22, switching in whole steps;
Focusing limits - from infinity to 1.6 m;
The back focal segment is 54.3 mm;
Thread for filters – М55×0.75;
Weight - 585 g;
Camera mount - C / Y mount with p / o 45.5 mm;
Other: built-in lens hood.
Lens design
You can often hear about Carl Zeiss Sonnar 135 / 2.8 T *, they say, this is "not a real Sonnar", since its optical design does not match the classic CZJ Sonnar 135/4, developed by L. Bertele back in the 1930s. This lens is often referred to as the "Ernostar" lens family. The distinctive features of Sonnar lenses include the following features:
Origin from Cook's "Triplet": division into conditional three parts - "+, -, +", each of which performs one or another role in optical distortion correction.
Use of thick lenses (h~D) in the optical scheme;
Use of glued components to reduce the number of glass-air interfaces.
Complex rear component (in fast lenses).
All these signs can be seen in the optical design of the Sonnar 135/2.8, and even the absence of a characteristic thick front gluing is not a hindrance to this: back in 1960, the famous (primarily successful reverse engineering of German lenses Biotar, Sonnar, Biogon) Soviet optician Mikhail Dmitrievich Maltsev patented (SU 141654) a method for improving the manufacturability of Sonnar lenses by replacing a bonded triplet with an air gap doublet while maintaining the optical quality of the system.
East German lens CZJ Sonnar 4/300 DDR also has a negative component in the form of a doublet with an air gap.
Due to the use of thick lenses, the lens turned out to be very weighty - the weight is almost 600 g! This is almost the mass of the faster ernostar-like (thin lenses) Canon nFD 135/2 lens (670 g).
However, the weight does not cause any inconvenience in use due to the very wide rubberized focusing ring with a smooth action: the lens can be gripped in a comfortable way so that there is no mass imbalance (but Jupiter-36 250/3.5 won't brag about it). On the other hand, so that life does not seem like a holiday, Sonnar 135 / 2.8 has a large minimum focusing distance - 1.6 m. With a ring travel of only 180 °, this solution looks frivolous: the cheap Soviet Jupiter-37A has an MDF of only 1.2 m with a ring travel of almost a full turn and therefore much more convenient.
Carl Zeiss engineers took care and built a small retractable lens hood into the lens - as is done in the Soviet Tair-11A 135 / 2.8. As in the case of Tair-11, I did not notice much benefit from this element - it does not prevent rays from being reflected from the non-blackened shiny bevel of the third lens of the lens, which, apparently, is the main reason for veiling in photographs when shooting against the sun.
There was also a problem with the diaphragm: due to the use of a "blinking" mechanism, the number of petals is limited, and not even quite tolerable 8-9, but only 6. Nobody thought about bokeh in those years: even with F / 4, the lens gives "circular saws", further turning into hexagons.
The diaphragm blades have a gray matte finish to reduce spurious reflections.
Carl Zeiss pays a lot of attention in their lenses to the quality of the anti-reflection coating of the lenses: it is this coating that largely determines the notorious "color", image contrast and behavior in backlighting (color and intensity of glare).
Objective lenses are cast in green, purple and orange, which is typical for multi-layer interference coatings. The light transmission of the lens to the eye is almost neutral.
Carl Zeiss Sonnar 2.8/135 T* has Contax/Yashica bayonet mount for SLR cameras. The working distance allows you to install the lens on Canon SLR cameras through an adapter ring, but it will be difficult to install the lens on other SLR cameras, not so much because of the working distance, but because of the large diameter of the C / Y mount compared to many others. On mirrorless cameras (EOS M, EOS R, Sony E, Nikon Z, etc.), the lens can be easily installed using the appropriate adapter.
The lens makes a good impression with its appearance, quality of materials and assembly. However, it has a number of disadvantages that limit usability and performance, which are less often allowed by manufacturers. modern manual lenses.
Optical properties
In his newsletter (PDF) manufacturer leads graphics frequency-contrast response of the lens , as well as curves of relative illumination and distortion, which, in general, is a kind of "rule of etiquette".
It can be noted that the lens has a high image quality for such a simple optical scheme (modern lenses have even better MTF for high frequencies - i.e. finer details): apparently, only at the very edges of the frame can we expect a noticeable drop in resolution. Since it is almost impossible to correct by aperture, it is most likely due to residual field curvature or astigmatism. A similar problem, only much more pronounced, has the Soviet Jupiter-37A 135 / 3.5.
At wide aperture, vignetting is almost 60% for a 36×24 frame. When used on a 44x33mm medium format, you can expect even more darkening of the edges of the frame. Positive (pincushion) distortion of ~0.5% is almost imperceptible.
The experience of real use shows that the lens really has good sharpness even at an open aperture. The drop in sharpness towards the edges of the frame is hardly noticeable. Sometimes you can notice the manifestation of chromatic aberrations, otherwise it is difficult to find fault with the optical quality.
Image contrast under normal shooting conditions is very good, but backlight results in heavy fogging. Most likely, the lack of blackening of the edge of the negative component of the lens is to blame for this. Color rendition does not cause any complaints and does not knock down the automatic installation white balance confused.
The bokeh of the Sonnar 135/2.8 is calm, pleasant, and in some cases quite interesting. Unlike Jupiter-37A, for Sonnar 135 / 2.8, doubling of lines in the background is unusual. Fans of Helios-40 will miss something in it).
Sonnar 135/2.8 has a significant over-coverage of the frame and will work without problems with both 44×33 mm matrices and shift adapter on full-frame cameras (in both the horizontal and vertical offset directions).
Below are sample photos taken with a Carl Zeiss Sonnar 2.8/135 T* and a full frame mirrorless camera. Sony A7s . Part of the photo is made as "shiftoramas" with the help of an adapter Fotodiox Shift EOS-NEX.
Conclusions
Optically, the Carl Zeiss Sonnar 2.8/135 T* is a nice lens, capable of consistently delivering good quality with a beautiful yet uncomplicated pattern. The mechanical design of the lens has flaws that deprive excellent optics of many advantages (in close-up / macro shooting, for example). As a result, we can say that most of the functions of this lens will be performed (and in some places "overfulfilled") by the inexpensive mass-produced Jupiter-37A 135 / 3.5, and for more money, class 135/2 optics will be much more interesting.
You will find more reviews from readers of Radozhiva here... All Rodion reviews in one place here.