Material according to MC Rubinar 5,6 / 500 Macro specially for Radozhiva prepared Rodion Eshmakov (subscribe to Instagram!)

MC Rubinar 5.6 / 500 Macro - one of 4 lenses presented by the Lytkarino Optical Glass Plant 30 декабря 2020 года :
Rubinar 5.6 / 500 (presented in this article)
Rubinar 10/1000 (will also be)
The new Rubinars differ from the lenses produced in the USSR by their fresh design, high quality finish and antireflection coating, made in accordance with modern requirements.
This lens is a fast version of the ultra-compact Rubinar 500 / 8... It is already much larger than the "dark five hundred", but still more compact and lighter than lens counterparts. The diameter of the Rubinar 500 / 5.6 aperture - 90 mm - has reached the apertures of quite sane amateur telescopes, however, unlike the Rubinar 1000/10, this lens does not have a special version for astronomers (Astrorubinar).
The lens was provided by representatives of the LZOS plant specifically for writing a review for Radozhiva.
TECH SPECS
Optical scheme - mirror-lens, development of Maksutov-Cassegrain scheme;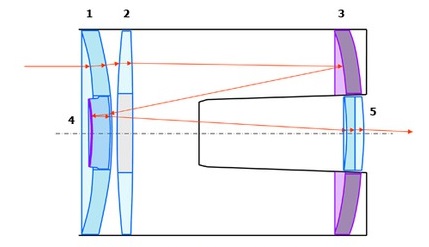 Focal length (FR) - 500 mm;
Aperture ratio (F-foot) - 1: 5.6;
Aperture taking into account the central screening - 1: 8.4;
Field of view - 5 ° (frame 36x24 mm);
The minimum focusing distance is 2.2 m;
Filters thread - М105 * 1 mm;
Mounting to the camera - M42 thread;
Dimensions (without covers) - 118 * 130 mm;
Weight (without covers) - 1.6 kg;
Features: tripod ring, manual focus only, constant relative aperture.
Design features
Rubinar 500 / 5.6 is made in the same design as other lenses in the line in an anodized aluminum body with a rubberized focusing ring and a tripod foot.
The advantage is the good quality of the finish: all the markings on the lenses are engraved, not just painted. The rubber ring fits snugly.
The disadvantage stems from the size of the lens: due to its large diameter, it cannot be mounted on SLR cameras with a built-in flash. The "beak" prevents the lens from being screwed onto the camera. Owners of mirrorless cameras will not encounter such problems.
The lens has two moving parts - a tripod foot and a focusing ring. Wide and responsive, with a smooth ride and even no extraneous crunch. The angular travel of the focusing ring is almost a full turn, and the dimensions of the lens change little. The minimum focusing distance of 2.2 m provides a macro scale of 1: 4, like all lenses in the line. In my opinion, the angular movement of the ring with such an MDF is not enough: although the lens can quickly transfer focus according to plans, accurate focusing requires patience and skill.
When focusing, the entire front part of the lens rotates, so it is problematic to use light filters with it. If you can find them, of course, filters with a diameter of 105 mm are rare and expensive. There are no filters included in the kit, the Soviet versions were equipped with UV and color filters, which are no longer very relevant today.
The tripod foot has a 1/4 "thread. It is fixed on the lens with a screw and can be rotated in any way, which is very convenient when using a tripod. A tripod to the lens can come in handy: although aperture and ergonomics allow take off, the mass is noticeably greater than that of Helios-44 :).
Also, a tripod and an eyepiece attachment of the "Tourist-FL" type, which is still found on the secondary market, make it possible to turn the lens into a small-sized telescope.
Although the best choice so far is to make the eyepiece assembly with a 1.25 "fit (2", most likely the lens will cover with vignetting when the eyepiece uses the entire field), it will not be possible to install a diagonal mirror. As an instrument for astronomical observations of deep space objects, Rubinar 500 / 5.6 is very attractive: it is extremely light, light and compact in comparison with other 90 mm telescopes, has a large field, and has a field corrector, which is usually quite expensive as a separate item.
According to LZOS, the lens received a new enlightenment, which in this case is like the truth: the optics of museum exhibits looks different. The objective lenses are cast in pink, purple and orange with a three-layer antireflection coating.
Rubinar 500 / 5.6 in terms of the totality of parameters claims to be a very multifunctional solution for telephoto and astronomy. Although it is no longer as surprisingly small as the Rubinar 500/8, it offers a large aperture, large aperture, which means more opportunities. The design of the lens is simple and reliable, with good, no longer Soviet clumsy designs and finishes.
Optical properties
One of the main conditions for obtaining good photos on the Rubinar 500 / 5.6 is either a reliable support, or - using shutter speeds shorter than 1/640 s (for a full-frame 12 megapixel sensor). The lens is quite comfortable in sunny weather take off, working in the shade will require raising the ISO to less than rosy numbers.
Rubinar 500 / 5.6 has a significant margin, which allows it to be used without restrictions on medium format cameras with a 44 * 33 mm sensor (Fujifilm G) and with a shift adapter on full-frame cameras ("36 * 48" mm). However, shooting at such a focal length with a shift adapter without a tripod is not a trivial task.
The resolution of the lens is sufficient for at least a 12 megapixel full-frame sensor. The image quality in the center of the frame and across the field differs slightly. The main advantage of the lens is the almost complete absence of chromatic aberrations and good field distortion correction. However, the Rubinar 500 / 5.6 has a simple pincushion distortion noticeable when photographing architecture. Often, the sharpness of photographs is limited by atmospheric refraction and blur.
The picture contrast is satisfactory under normal lighting conditions. A noticeable veiling appears in the backlight - the lens should be used with the supplied hood. I did not use it at work.
Due to the large aperture, the lens has a small depth of field and pronounced bokeh with characteristic bagels. Good or bad it depends on the subject and, of course, taste. Bokeh rings are an essential feature of catadioptric lenses. For creative ideas, it is quite an additional tool.
Below are examples of photos taken with a full-frame Sony A7s, part of which was taken using a shift adapter.
See also comparison of Rubinar 500/5.6 with Samyang 500/6.3 here.
Conclusions
Rubinar 500 / 5.6 is a lens with great possibilities: it is also a good telephoto lens with a high focal length for such a focal length aperture and small dimensions, it is also a promising instrument for astronomical observations and astrophotography.
You will find more reviews from readers of Radozhiva here... All Rodion reviews in one place here.