Overview LOMO OKS11-35-1 F = 35 1: 2 specifically for Radozhiva prepared Rodion Eshmakov.
Issued in the 1980s by the Leningrad Optical and Mechanical Association OKS11-35-1 - The film-making lens is a normal fast lens for 35 mm movie cameras with a mirror shutter (Kinor-35, Konvas).
Specifications :
Optical design: 6 lenses in 5 groups, an "inverted" biometar with a split back component, view of circuit 1, 2, 3;
Focal length - 35.72 mm;
Relative hole (geometric) - 1: 2;
Frame format - 35 mm film, 16x22 mm (Kf = 1.5);
The back section is 34.97 mm;
Light transmission coefficient - not less than 0.8;
Resolution - 55 lines / mm (center), 25 lines / mm (edge);
Dimensions - 45 mm (the largest diameter of the frame), 88 mm (length);
Mass - 115
Features of the design and adaptation of the lens
OKS11-35-1, which fell into my hands, is a lens unit with a diaphragm mechanism, devoid of a focuser and a specific mount (usually for cine lenses, this is the OST19 bayonet). This cine lens is a rare representative of the short throw (<75 mm) cine optics, which can be mounted on modern CZK while maintaining focus at infinity. At least, the flange is enough for the lens to work with Canon's digital lock with Kf = 1.6. Owners of full-frame digital cameras will not be able to fully use the lens even in crop mode - the mirror will interfere.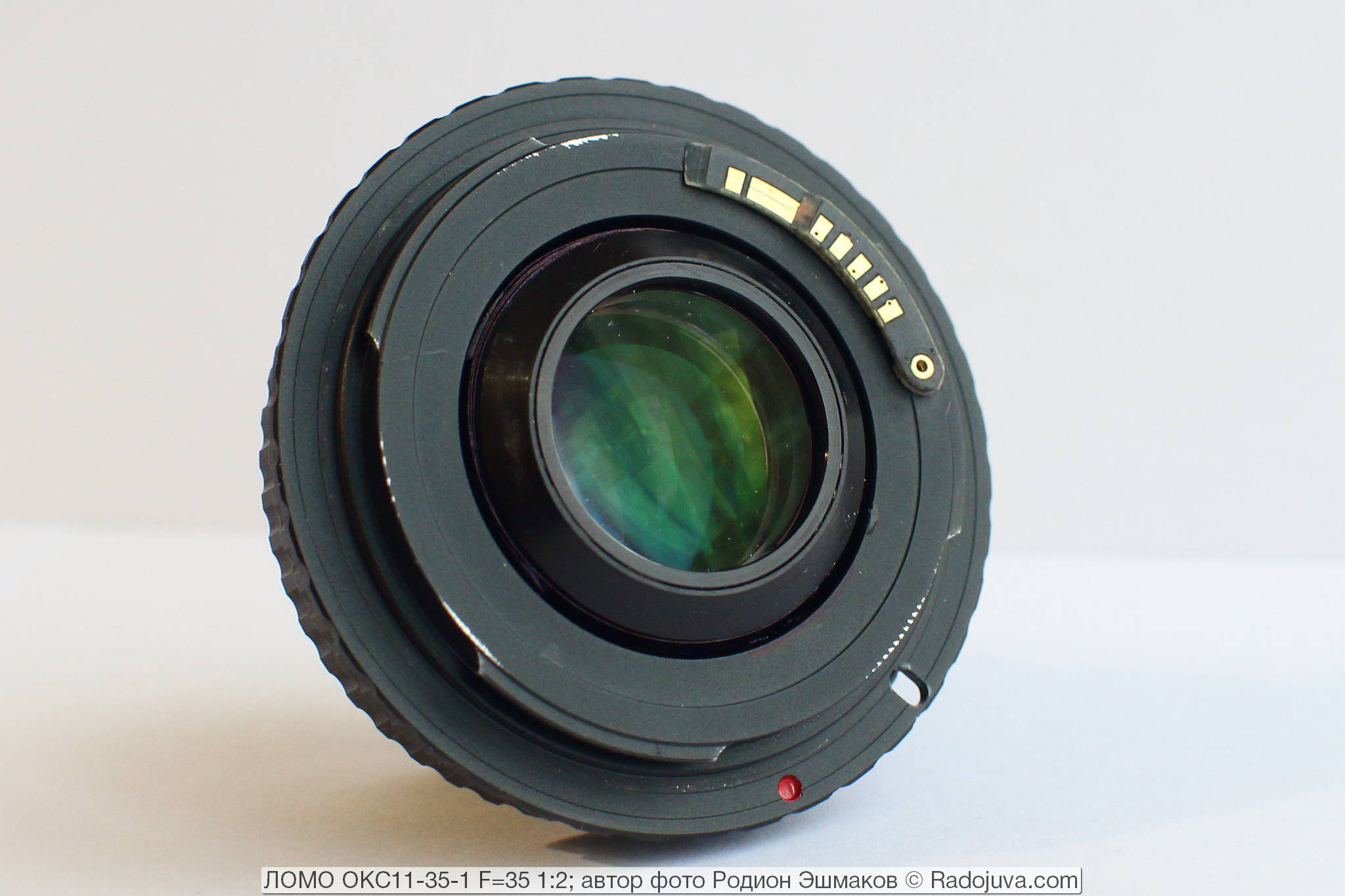 The adaptation procedure is extremely simple thanks to our friends from the Middle Kingdom, who established the production of relatively inexpensive and fairly decent macrogelicoids: I planted the lens lens block in a 12-19 mm helicoid. In this case, a range of focus distances from ~ 40 cm to "infinity" is achieved.
The lens designers did not stint on the excellent blackened ten-petal diaphragm, which always gives a round hole and ten-beam stars from point sources of light.
The lenses of the lens carry a beautiful green multilayer enlightenment, infrequent for 1986, in which, judging by the number, the lens is released. All the best for the movie.
Despite the multilayer enlightenment, the lens slightly warms the color.
Unlike photo optics, the red scale on the lens indicates T-stops of the diaphragm, and not the usual F-stops. In other words, the values ​​of the real (taking into account light transmission), and not the geometric aperture, are shown. Therefore, in this article we will use the notation through T-stops.
The first value on the aperture ring - T / 2.3 - corresponds not at all to an open aperture, but to a slightly closed one: this can be seen not only when considering the operation of the diaphragm mechanism in this area, but also (indirectly) from technical information. So, if F / 2 corresponded to T / 2.3, then the light transmission coefficient was below 0.8, which cannot be (according to TU). Open aperture F / 2 corresponds to ~ T / 2.2.
OKS11-35-1 combines high aperture and a short focal length with very small (compared to any other 35/2 for SLR cameras) dimensions, which makes it a great option for a regular lens for crop DSLRs. Smaller, perhaps, is the dark and longer T-43 40/4. But will optical quality allow him to be a favorite staff member?
Optical properties
Like the Vega-3 50 / 2.8 related optical lens, the OKS11-35-1 forms a very sharp image in the center of the frame on the open aperture with a strong and rapid drop in resolution to the edges.
Change focal sharpness from F / 2 to T / 5.6 when focusing to infinity
In the F / 2-T2.8 range, spherical aberrations are clearly manifested (in the bokeh there is a bright edging of the circles of blur in the center of the frame), up to T / 5.6, the edges are strongly influenced by field aberrations (coma, astigmatism).
Change sharpness with aperture from F / 2 to T / 2.8 when focusing at close range
Completely incorrigible diaphragms are transverse chromatic aberrationthat appear at the edges of the frame (orange and blue borders). What to do - apparently, the lens does not use any special types of glass and, moreover, special optical elements.
Change the picture with aperture from F / 2 to T / 2.8 and T / 4
It is not difficult to notice severe vignetting (> 50% at F / 2) even on a camera with Kf = 1.6. This lens, of course, will not cover a full frame. Moreover, OKS11-35-1 has a noticeable field curvature (an arc similar to aplanat lenses: behind aperture and the working period must be paid. Sometimes not only money.
A set of aberrations and other disadvantages of the optical scheme gives the OKS11-35-1 a specific bokeh. Aperture does not spoil it with sharp shapes: 10 aperture blades always ensure smooth edges of circles of blur. Perhaps, only Primoplan 11 / 35 and ISCO Westron 1 / 58 possess perhaps similar to ОКС1.9-35-2.8 bokeh. The Vega-3 lens (normal biometar) has a "reverse form" bokeh with respect to OKS11-35-1 ("inverted" biometar).
The effect of aperture (F / 2, T / 2.8, T / 4) on the side OKS11-35-1
OKS11-35-1 has a good overall image contrast due to multi-layer enlightenment and copes well with backlight. This lens does not even catch glare: in the harshest sun, occasionally not the most aesthetic green bunnies appear. Most likely this is also due to the lens design that does not contain a large front lens (like Mir-1 and other 35 / 2.x class optics). It is also difficult to make complaints about the color rendition of OKS11-35-1.
Will the OKS11-35-1 35/2 on crop cameras be better than, for example, the Soviet Mir-24 35/2 MS of the same release years? Rather, yes: better light resistance and compactness give a tangible advantage with similar optical quality (I would trust this lens a little more than YongNuo 35/2). Will the OKS11-35-1 35/2 be better than modern aperture thirty-five? Unless in size.
More photo examples (Canon 600Dshooting in RAW and developing in Canon DPP) are shown below.
Conclusions
OKS11-35-1 is a unique Soviet cinema lens with unique characteristics, which has an amazing design (movie magic? :)) and even more amazing compatibility with modern crop-CZK cameras. However, he is still a Soviet product of his time and super-high quality images you should not expect from him: a lover of sharp pictures and high aperture is more likely to pay attention to Samyang 35 / 1.4, and a fan of dizzying bokeh - to Meyer Primoplan 58 / 1.9. But some of the advantages of the OKS11-35-1 - the unusual compactness on the central defense complex and the Soviet indestructibility - have not yet been defeated.
Thank you for your attention, Eshmakov Rodion.
You will find more reviews from readers of Radozhiva here.