The Nikon D700 is a full format Nikon FX camera and is Nikon's second full format DSLR camera. The camera was introduced in the summer of 2007 and is now the cheapest full frame from Nikon (unless, of course, film cameras) Most photographers attribute the Nikon D700 to reportage cameras.
I have been using Nikon D700 for a little over 3 years, during which time I have changed several of these cameras.
Nikon D700 is a professional camera, it has no automatic modes shooting. This camera is designed for people who know the basic skills of working with photographic equipment and for whom it will not be difficult to work in semi-automatic or manual modes P, A, S, M.
Nikon D700 - heavy, dustproof and waterproof chamber with uncompromising metal alloy housing. But trouble, trouble, over time, the gum on the handle and throughout the camera body swell, peel off, and badly spoil the nerves. In addition, the lateral rubber plug for different connectors after swelling of the rubber does not want to close and constantly hangs. On my last Nikon D700, I just cut off this stub. Hanging gum and dummy plugs for PC-sync under studio light and contacts for the remote control. You can replace the rubber bands in the service center, but they take a lot of money for this pleasure, and the rubber bands come from China for quite a long time.
My Nikon D700 cameras are badly worn out from fighting, which is why metal began to appear under their black paint. Due to its heavy weight, the Nikon D700 distributes weight well with heavy lenses like the 70-200 / 2.8. It is best to use a Nikon D700 with a battery grip.
We accelerate the Nikon D700 to the cherished 8 fps
In normal mode, the Nikon D700 can shoot at a speed of 5 fps (with any image quality settings, color depth and compression level RAW) Using battery pack MB-D10 or network adapter EH-5a / EH-5, the speed can grow up to 8 fps. But, to make the camera shoot at a speed of 8 fps, one MB-D10 not enough. You need to use a special holder MS-D10 with 8 AA cells (batteries or rechargeable batteries). The MS-D10 holder is supplied with MB-D10. Also, 8 fps can be achieved using a more capacious battery. EN-EL4 (from cameras Nikon D2h, D2hs, D2x, D2xs) Or EN-EL4a (from cameras Nikon D3s, D3, D3x), but this requires the optional BL-3 cover (which is not included with the MB-D10). In addition, if you buy a battery EN-EL4 or EN-EL4a, you will have to additionally buy and charge Nikon MH-21 / Nikon MH-22 for it. If in MB-D10 use a regular standard battery EN-EL3e, then the burst speed will not change. Battery pack MB-D10 equally suitable for D300, D300S and D700.
Recently, I have been using Nikon D700 with a booster MB-D10 and one EN-EL3e battery. I want to note that the booster (battery pack / portrait grip) MB-D10 performed not logically. Only one battery is inserted into the booster, the second is inserted into the battery compartment of the camera itself. As a result, to use the camera with two batteries, you need to remove the booster from the camera, insert the battery into it and reinstall the booster. I think this method is stupid, impractical and in general, after the bustare from Nikon D200, such illogical behavior is just a mockery of the photographer.
Unpleasant feature of batteries No. 1
At low temperatures (not necessarily freezing), the camera does not fully release the shutter, and an error message 'Err' appears on the display. To resume camera functionality, just press the shutter button again, after which it will perform a full cycle and you can continue shooting. This behavior in cold weather is most likely due to a drop in battery capacity, which is not enough power for a full shutter release cycle. The repairmen say that diaphragm drummer absorbs a lot of energy and this problem can be observed with many Nikon cameras. This feature is also observed when working with a booster. In any case, in cameras of this level I would like not to encounter such unpleasant features. I get around this shortcoming with 'warmed up' batteries, of which I have 6 spare pieces.
Unpleasant feature of batteries No. 2
When using non-native (Chinese counterparts) batteries with a battery pack, the camera often reports that the battery is completely discharged. At the same time, if you install it in the main battery slot, which is located in the camera, then everything will work fine.
Trouble number 3

With the active use of external flashes, the hot shoe of the Nikon D700 camera breaks, after which the flash begins to behave similarly poltergeist. Even if you put the camera on a table or a tripod, install any flash, for example, the native Nikon SB-910, the flash can turn on any of its functions on its own. Usually a malfunction manifests itself in the fact that the camera stops "seeing" the flash, or blocks the shutter release, the flash can spontaneously give any number of pulses of any power (you can burn your eyes), the flash focusing grid is activated, etc. If you move the flash in the hot shoe a little, the problem goes away for a few seconds. Clamping the metal contacts of the hot shoe only solves the problem for a while. It is treated by replacing the shoe.
The camera has a great small monochrome displayon which all the basic settings are available. I write small because, compared to Nikon D200, D300, D300s the monochrome display has decreased, since the Nikon D700 uses a large pentaprism, which pushed and reduced the secondary display. The monochrome display has a pleasant green backlight, which is turned on using the camera's power lever. The monochrome display saves battery power and simplifies camera setup and shooting.
The main display of the Nikon D700 at 920.000 points, the same as that of the cameras Nikon D90, D300, D300s, D7000, D3, D3s, D3x. The display is nice and has a protective cover that I never take off. You can adjust the brightness of the display for yourself.
Nikon D700 uses large and fast CF cards. My Nikon D700 works seamlessly with a 32GB 400x card.
Nikon D700 is not big at all frame buffer. Depending on the type and format of the image, the buffer can hold a maximum 18 RAW shots (at conventional compression, 12 bit RAW), 15 shots of Tiff, 24JPEG L FINE (size priority). I almost never saw information in reviews about the fact that some functions reduce the number of frames in the buffer. Because, attention: if you enable ADL, noise reduction at slow shutter speeds and high ISOs, frame buffer reduced to 6 shots - this is a very, very bad indicator. But, even if you take the maximum - 18 RAW files with disabled additional settings to improve images, this is 3 frames less than in the ancient professional Nikon D200.
Given that the maximum shooting speed is 8 fps, with the Nikon D700 you can shoot series no longer than 3 seconds. So, the Nikon D700 is not quite suitable for serious reporting. Frame buffer - one of the main indicators of camera performance and speed. Well, if it is very important to shoot in series in RAW, then in DX mode the buffer can hold as much as 26 frames (with normal compression and 12-bit color depth).
Nikon D700 camera has everything 12.1 effective megapixels... This is small enough for a full frame camera. A small number of megapixels increases the diffraction threshold. CMOS sensor type, Nikon D700 is the first full frame matrix from Nikon, because it is not the most ideal. In a number of characteristics, the D700 is inferior even to amateur cameras. Nikon D7000, D5100... Full frame is not a panacea for image quality. In general, I do not recommend chasing the number of megapixels, for more details in my article Battle of Megapixels.
Nikon D700 has built-in focus motorthat allows you to automatically focus with AF optics, for example, with Nikon 50mm F1.8D, Nikon 85mm F / 1.8D AF Nikkor and other AF lenses.
For measuring exposure thrown out 3D Color Matrix Metering II with 1005 zones. The camera works wonderfully even with old AI-S, Pre-ai lenses. In principle, froze exposure available and tin can instead of lens, and even without a lens at all. The camera can memorize 10 manual lenses. I love to use Nikon D700 with Soviet lenses, since the camera has an electronic rangefinder (arrows near the green dot, which suggest which direction to rotate the focus ring on manual lenses).
At the camera 51 focus points, 15 of which are cruciform. After using the camera for a long time, I do not feel the difference between cross-shaped and regular focus points at all. A serious focusing drawback is the fact that all points are placed only on the DX area of ​​the camera - you cannot focus at the edges of the frame. Focus module MultiCAM 3500FX use older cameras Nikon D3, D3s, D3x.
The camera has a main ISO range from 200 to 6400 and an expanded from 100 (1) to 25.600 (hi 2). It's a shame that the Nikon D700 does not have a true ISO 100. The shortest excerpt the camera is 1 \ 8000c. Funny but one of the first Nikon D1h could shoot at 1 \ 16.000. Short excerpt and minimum ISO are very important when using fast lenses.
Nikon D700 can control flash according to the protocol Nikon CLS. Funny but before the release Nikon D800 (D800E) The XNUMX was the only full-frame camera with built-in flash. Yes, that's right, in Nikon D3, D3s, D3x, D4, D4s, Df there is no flash at all, therefore, the SU-800 module is recommended for flagship cameras. You can read how to control flashes in the section about Nikon CLS. Many do not respect the built-in flash frog, but in skillful hands it turns into an ideal flash synchronization device. Of course, the Nikon D700 has fast flash synchronization and can shoot in FP mode with flash for at least 1/8000 s, in more detail in the section on flash in the afternoon.
The battery on the camera is quite powerful, without a flash it easily fulfills 1000-1500 shots. The battery is completely identical to Nikon D80, D90, D200, D300, D300s and compatible with D100, D70, D70s, D50 (but not vice versa).
A thousand and one useful things: bracketing, control HA in JPEG, vignetting control, virtual horizon, Live View, viewing depth of field, multiple exposure, matrix cleaning, interval shooting, etc. If you have questions about small things, write in the comments, I will try to answer quickly.
If you take the matrix and the stuffing from the flagship camera Nikon D3, and shove it into the case from Nikon D300 (Nikon D300s), we get the Nikon D700.
About Nikon D700 and Nikon D3, I highlight the main differences in bold.
Different level... Nikon D700 is professional and Nikon D3 - flagship professional camera. In any case, Nikon D3 is positioned for a different circle of photographers.
Different body. And therefore, Nikon D3 has better ergonomics of management, more capacious battery.
Nikon D700 has dust cleaning matrixand the Nikon D3 doesn't have one.
Nikon D700 takes off 1 f slowerthan Nikon D3
Nikon D700 has another pentaprism with less coverage, covering only 95% of the picture.
Nikon D700 only one slot for memory cardsThe Nikon D3 has two. Professionals value this feature in the Nikon D3 very highly.
Funny but Nikon D3 does not have a built-in flash, and the Nikon D700 has, from here comes up a whole series of Nikon D700 work options with Nikon CLS with groups of flashes. I really appreciate this feature.
Different shutter. Nikon D700 will last two times less than Nikon D3
Various little things in the menu settings, etc.
Speaking on the case, I did not use Nikon D3, but, given that the cameras have the same matrix and the same focusing system, the image quality and functionality are very close. Now both cameras are outdated, as Nikon D3s, D4, D4s, D5 are much better than these two old ladies.
About Nikon D700, D600, D800,D800E:
| | | | |
| --- | --- | --- | --- |
| | D600 | D700 | D800 (E) |
| Pixels | 24MP | 12MP | 36MP |
| Native shooting speed k / s | 5,5 | 5 | 4 |
| Maximum possible speed k \ s | 5,5 | 8 | 6 |
| Number of Focus Points | 39 | 51 | 51 |
| Cruciform sensors | 9 | 15 | 15 |
| Focus Sensors at F / 5.6-F / 8.0 | 33 | 0 | 15 |
| Focus Sensors at F / 8.0 | 7 | 0 | 11 |
| ISO, AIB | 100-6400 | 200-6400 | 100-6400 |
| Maximum high ISO | 25600 | 25600 | 25600 |
| Maximum low ISO | 50 | 100 | 50 |
| Minimum speed excerpts | 1 / 4000s | 1 / 8000s | 1 / 8000s |
| Minimum sync speed | 1 / 250s | 1 / 320s | 1 / 320s |
| Chassis | Part from M. alloy | Magnesium alloy | Magnesium alloy |
| Memory cards | 2 X SD (HC, XC) | 1 x CF | CF + SD (HC, XC) |
| Video | 1920 x 1080 | no | 1920 x 1080 |
| Display | 3.2 in | 3 in | 3.2 in |
| Dots on display | 921000 | 921000 | 921000 |
| Viewfinder Coverage | 100% | 95% | 100% |
| Viewfinder Zoom | 0,7h | 0.72x | 0,7h |
| Weight with battery | 850g | 1075g | 900 |
| RAW Buffer (FX Mode) | 15 | 18 | 16 |
| HDR | Yes | no | Yes |
| RAW | Compression only | Without compression | Without compression |
| Measurement exposure | 2016 pixels | 1005 pixels | 91000 pixels |
| Shutter | 150000 | 150000 | 200000 |
I note that Nikon D600 and Nikon D700 - these are cameras of different levels, despite the fact that the D700 is much older Nikon D600, but still its 'charm' is noticeably better than the 600. In choise Nikon D800, D700, D600 I would adhere to this sequence, leaving the budget: Nikon D810 -> Nikon D800E -> Nikon D800 -> Nikon D750 -> Nikon DF -> Nikon D610 -> Nikon D600 -> Nikon D700. Nikon 810a will be chosen only by experts in their field.
Interesting options for setting up and managing the Nikon D700:
You can set the center selector button to view captured images at a specific magnification. Roughly speaking, when viewing a picture, with one press of the central button of the selector (joystick), you can get an increase in any area of ​​the picture. This is very useful for checking sharpness. Moreover, the increase is done at the focus point (or group of points), according to which the picture was taken.
I adjust the FN button for auto ISO controls. This is not so easy to do, which is the strong minus of the camera. To do this, add the item "Auto. management feels. ISO ", and in the function key programming menu select" Call. top. item MY MENU ". The button is configured via the "INFO" menu.
I program the preview button to select the manual lens. Moreover, it is very inconvenient that you can only select the lens number with the specified parameters. On my Nikon D200 with this setting, it was also possible to change the parameters of the lens, which is very useful when using lenses with manual aperture controls and zoom lenses. The button is configured via the "INFO" menu.
I program the AE-L / AF-L button for the 'Live View' mode, after which the Live View mode becomes more familiar for the convenience of switching on, for example, as on Nikon D90. By the way Auto focus in Live View is only available in AF-S mode and only with the AF-ON button and only when 'tripod' mode is selected.
I turn off the audible focus alert, which greatly disturbs and annoys some people when shooting, for example in церкви.
In the playback menu, you can configure the camera so that the focus points that participated in focusing (on which the subject was focused) are displayed in the image when viewing images. This is done through the "Display Mode" submenu.
Focus mode AF-C set to shutter priority, and AF-S to focus priority. You can find useful information on working with these modes here.
All other settings (and previous ones too) can be customized to taste and needs. Do not forget that the Nikon D700 has several banks of settings that you can save and change. More details about this here.
More examples of photos with RAW source files obtained with Nikon D700 can be viewed and / or downloaded in the following reviews:
Personal experience:
Nikon D700 is a very good camera. I work as a photographer and really appreciate her 51 point focus, quick response. It's funny, but all 51 focus points are in the DX area of ​​the image, it seems that the Nikon D700 is not Nikon Multi-CAM 3500FXand Nikon Multi-CAM 3500DX from Nikon D300 (details here) Also, exposure meters Nikon D700 is afraid of flare. For example, when shooting in a church, if a small light source in the form of a candle enters the frame, matrix and centrally weighted measurements take a strongly underexposed frame. The dynamic range of the camera is small, Nikon D7000 it is much higher, but do not blame the old Nikon D700, because it is the first full frame matrix from Nikon. Also, the Nikon D700 is one of the few cameras that has a useful Live View mode and at the same time does not need to overpay for the video function. When viewing an image in Live View, it is very slow. For example, Live View at Nikon D90 much better "understands", especially when enlarging an area of ​​the image. Often, Nikon D700 is the first FF camera for photographers, and whether it's worth switching to full frame at all - everyone must decide for himself, perhaps my article will help with this. 'Crop identification'. Regarding the matrix noise: yes, Nikon D700 bypasses any Nikon DX camera in terms of noise, there is nowhere to hide the cat in the bag. Regarding the recommendation of lenses for use: it all depends on the needs and tasks of the photographer.
D700 and skinton
Some do not like the way the camera conveys skin color (skin tone). Indeed, sometimes you can seriously complain about this. But for the Nikon D700 (and also for Nikon D300, D300s, D3, D3s and D3x) there is one unusual solution - to shoot in RAW, which then needs to be 'developed' using Nikon ViewNX (Nikon ViewNX-I) or CaptureNX (CaptureNX-D), while making sure to select Picture Control (Picture Control Mode) 'M1 D2Xmode1 ', or 'M2 D2Xmode2', 'M3 D2Xmode3' to your liking. These are special picture management sets that mimic the operation of cameras. Nikon D2x и D2xs... Try it, the result is sometimes very, very pleasantly surprised. So, the 'M1 D2Xmode1' is best for portrait photography.
For those who do not want to bother with RAW files: these same image management modes can be installed right into the camera by downloading them on the official website here to register:.
On the net you can find the same profiles for Lighroom and ACR ( link), after which working with RAW files can turn into a pleasure. Also, I advise you to look into my note about RAW converters.
Live, die and live again!
A little addition: after 150.000 shots at one of the weddings, I refused camera mirror... The cause of the breakdown - the mirror lever broke, the repair at the official service center in Kiev took over 1 month and stood at around $ 650, as they explained, in the D700 all the mirror, shutter and diaphragm mechanisms are connected, so the entire front mirror bay had to be changed ... After the repair, the frame counter showed 10 pictures.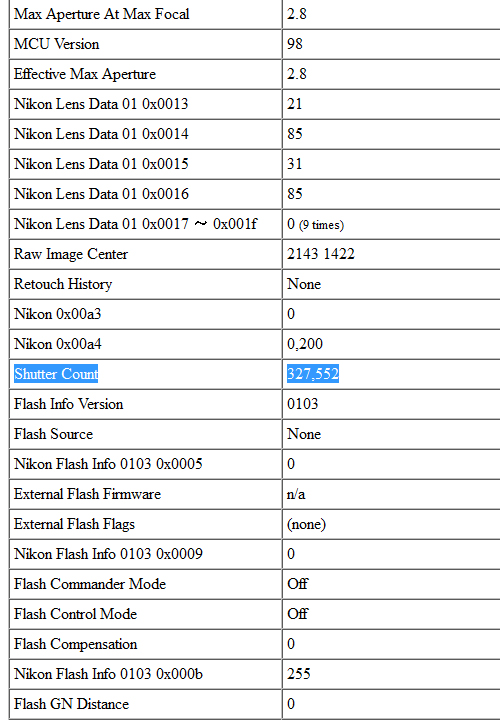 Another small addition: I got another Nikon D700 camera, I bought it second-hand with a range of about 10.000 frames. At 330.000 frames, problems started with mirror sticking.
Prices for modern Nikon cameras in popular stores can look at this link.
Comments on this post do not require registration. Anyone can leave a comment. Many different photographic equipment can be found on
AliExpress.com
.
Results
Nikon D700 - Nikon's most affordable full-frame digital SLR camera.
I do not recommend to beginners - it is heavy and requires an understanding of photography techniques.
I do not recommend to professionals - the potential of other full-size cameras will last for many years to come.
Elder Nikon D700 is interesting only for the price and full frame. I recommend Nikon D700 for upgrade after old DX cameras as budget option FX camera.
Nikon D700 is a long-running legend.
Nikon D700 is one of Nikon's most balanced cameras. Until now (in the summer of 2016) there is no full replacement for her. Nikon D750 - not at all. It is Nikon D700, not Nikon D300, that can be considered a reduced copy of the TOP Nikon D3.
Have questions about Nikon D700? Ask them in the comments, I have been using this model for a very long time and I know a lot about it.
Material prepared Arkady Shapoval. Training/Consultations | Youtube | Facebook | Instagram | Twitter | Telegram